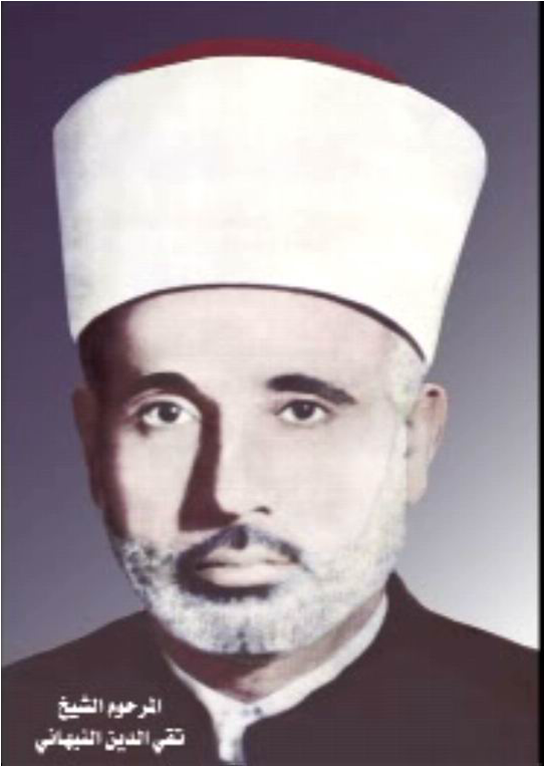 Sheikh Taqiuddin An-Nabahani (Founder)
Sheikh an-Nabahani was born in the village of Ajzam in 1332 Hijri or 1914 CE
Taqiuddin bin Ibrahim bin Mustafa bin Ismail bin Yusuf an-Nabahani (founder of Hizb ut Tahrir) belonged to Bani Nabahan and he came from a village by the name of Ajzam in Haifa in Northern Palestine. His family was known for knowledge, practice of Deen and Taqwa. His father, Sheikh Ibrahim, was a jurist and a scholar of 'Uloom e Sharai in the Ministry of Ma'arif (Knowledge and Arts). His mother was also an expert in 'Uloom e Sharai,' which she obtained from her father Sheikh Yusuf an-Nabahani.
Different narrations mention his maternal grandfather Sheikh Yusuf Nabahani in these words: Yusuf bin Ismail bin Yusuf bin Hassan bin Mohammad Al Nabahani Al Shafii' – his kunya (nickname) was 'Abu al Mahasin' and he was a poet, Sufi and a literary person. He was considered amongst one of the best judges of his time. He served as a judge in the area of Jenin affiliated with Nablus. Afterwards, he transferred to Istanbul where he served as a judge in the area of Kavi Sanjaq in Mosul. Then he was appointed as the head of the royal court in Al-Azqya and Al-Quds. And then he took charge of the Court of Rights of Beirut. He has authored forty-eight books.
Sheikh Taqiuddin's Islamic personality is to a great extent an outcome of his family background. Therefore, he memorized Holy Qur'an at the age of 13 years. He was greatly inspired by his maternal grandfather's knowledge and awareness and he acquired from this ocean of knowledge, as much as he could. From the very beginning, he acquired political awareness especially from those political movements which his grandfather initiated in favor of the Ottoman Caliphate. The Sheikh benefited greatly from the jurisprudence related arguments that were organized by his grandfather Sheikh Yusuf. It was during these conventions that he caught the attention of his grandfather. Therefore, Sheikh Yusuf convinced Sheikh Taqi's father to send him to Al Azhar University to attain knowledge of 'Uloom e Sharaii'.
Attainment of Knowledge:
Sheikh Taqi received admission in the eighth grade in Al Azhar University in 1928 and cleared the exam with distinction in the same year. He was awarded with the certificate of 'Shuhada Al Ghurba'. After this he received admission in the science college which was affiliated with Al Azhar University at that time. He used to keep attending the knowledge conventions of those scholars about whom his grandfather guided him e.g. Sheikh Mohammad Al Khizar Hussain (rahimahu Allah). In the old method of teaching, it was allowed for the students to attend such circles. Sheikh an-Nabahani always remained a prominent student even though he undertook the tasks of studying in Science College and attending knowledge conventions simultaneously. His contemporaries and teachers used to envy him because of his deep thought, learned opinions and his convincing arguments, which he presented in the debates held in Cairo and other Islamic lands.
Sheikh obtained these degrees: Intermediate from Al Azhar University, Shahada tal Ghurba from Al Azhar, graduation in Arabic language and literature from Cairo, Dar al' Uloom, degree of judgeship from Ma'had al 'Aala – an institute of sharai' courts affiliated with Al Azhar and Shahada tal 'Alamiah in sharia' from Al Azhar (masters degree) in 1932 CE.
Offices held by Sheikh:
Sheikh served in the Sharai' education department of the Ministry of Al-Ma'arif until 1938 CE. Then he was promoted and was transferred to the Sharai' Court and was selected as attorney in the Central Court of Haifa. After that he was promoted to the rank of Assistant Judge. Then he served as the judge of the Court of Ramallah until 1948 CE. After the occupation of Palestine by the Jews, he migrated to Syria but then returned to Palestine in the same year and was appointed the judge of Sharai' court of Al-Quds. Then he served as the judge of Sharia' of High Court till 1950 CE. Afterwards, he resigned from the post of judge and became a teacher at 'Uloom e Islamia College in Oman. The Sheikh (rahimahu Allah) was an ocean of knowledge; he was a master in every branch of knowledge. He was a great Mujtahid and Muhadith.
His Books:
i. Systems of Islam
ii. Structuring of a Party
iii. Concepts of Hizb ut Tahrir
iv. The Economic System in Islam
v. The Social System in Islam
vi. The Ruling System in Islam
vii. The Constitution ( The Khilafah State)
viii. Introduction to the Constitution (the Preamble)
ix. The Islamic State
x. Islamic Personality (Three Volumes)
xi. Political Concepts of Hizb ut Tahrir
xii. Political Thoughts
xiii. A Warm Call
xiv. Khilafah
xv. Thinking
xvi. Presence of Mind
xvii. Departure Point
xviii. Entering Society
xix. Lislah e Misr
xx. Al Ittefaqiyat as Saniya al Mastiya al Surya wal Yamnia
xxi. Hal Qadeeh Falasteen 'ala Tareeqa tal Amreekya wal Engleezia
xxii. Nazrya al Faragh al Syasi Hol Mashroo' Eezan Hawar
And there are hundreds of other intellectual, political and economic articles as well. Before founding Hizb, he wrote two books: Anqaz Falasteen (The Rescue of Palestine) and Risla tal 'Arab (Letter to the Arabs).